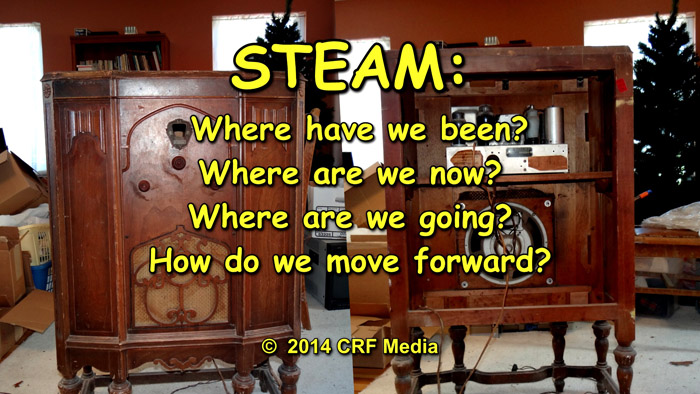 Science, Technology, Engineering, the Arts and Math are integral and interlocking disciplines. They transcend time, space and cultures.
It is instructive to observe small snapshots relating to these concepts as we look at
Where we have been?
Where we are now?
Where we are going?
How do we move forward?
This short video represents a personal perspective of these areas with major emphasis on middle school students who are growing up in an environment much different than mine in the 1940's and1950's.
The presentation is divided into four parts with a pause at the end of each segment for interaction with the audience.
Part 1: A short historical illustration of development of the computer.
Question: Why did it take so long to get to this point? Part 1 Video (2:12 59mB): STEAM Pt 01 720p.mp4
Part 2: A focus on the Philippine Islands. This is a country with a long history of making do with what they have, but is now emerging as a modern country.
Question: How do you fix this tangled collection of telephone and power line wires? Part 2 Video (1:32 42mB): STEAM Pt 02 720p.mp4
Part 3: A focus on technology for basic survival including the adaptation of modern materials to solve ancient problems.
Question: Could you make a water pump? Part 3 Video (2:43 75mB): STEAM Pt 03 720p.mp4
Part 4A: A look at education opportunities in various places around the world. Some children are forced to work at a very early age. Question: How can things be made better? Part 4A Video (1:18 31mB): STEAM Pt 04A 720p.mp4
Part 4B: There are several isolated villages in the rain forest of West Central Cote d'Ivoire. In the small village of Dantomba, the school children have a handmade toy that embodies the depth and breadth of the STEAM concepts.
Question: Can you make and spin a Dena? Part 4B Video (1.24 43mb): STEAM Pt 04B 720p.mp4 (Go to the Dena page for more information)